New Nanoscale Imaging May Lead to New Treatments for Multiple Sclerosis
Laboratory studies by chemical engineers may lead to new experimental methods for early detection and diagnosis -- and to possible ... > full story
CECRI Research Output

An year-wise database of research publications of CECRI Scientists is being maintained and updated from the year 2005 onwards. A comprehensive database containing the record of publications of CECRI since its inception to 2005 has been envisaged. Efforts are on to compile/digitize the full text of the publications. A CD containing searchable data as well as an online version of the same have also been planned to be brought out. More...
Supercapacitors: Cheaper, Greener, Alternative Energy Storage
Students are working on a supercapacitor that will allow us to harness more solar energy through biochar electrodes for supercapacitors, resulting in a cleaner, greener ... > full story
CECRI News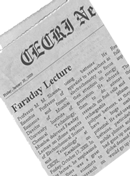 CECRI News, brought out as a bi-monthly, provides snapshots of happenings in CECRI. It offers a bird's eye view of the events that took place, visitors at CECRI, lectures given, training programmes conducted, projects undertaken, deputation details, Information regarding appointment and retirement of staff members etc. It also contains a column for the laurels brought to CECRI. More...
About CSIR-CECRI
The Central Electrochemical Research Institute (CECRI), founded in 1948, has its roots in the patriotic fervor of Dr. R. M. Alagappa Chettiar, Pandit Jawaharlal Nehru and Dr. Shanthi Swarup Bhatnagar. On January 14, 1953 CECRI became a physical reality when Dr. S. Radhakrishnan dedicated CECRI, the twelfth national laboratory under the CSIR, to the nation. CECRI today is a proud family of 500 employees, 150 of whom are scientists.... >More
World's Smallest Wedding Rings: Interlocking Rings of DNA Visible Through Scanning Force Microscope

DNA nanotechnology makes use of the ability of natural DNA strains' capacity for self asssembly. Researchers in Germany were able to create two rings of DNA only 18 nanometers in size, and to ... > full story
Gateway to Journals / Patents

CSIR network project
"e-journal consortium" is provided CSIR S&T personnel electronic access to world S&T literature through strengthening the facilities for pooling, sharing and electronically accessing the CSIR information resources and to nucleate the culture of electronic access with a view to catalysing the evolution of digital libraries.